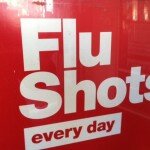 The CVS in Davis Square was a madhouse today after a press conference held this morning announcing that the city of Somerville has run out of flu vaccine after receiving 420 doses from the state Department of Public Health and ordering 300 immunization shots in preparation for flu season.
"We heard the flu season was going to be more severe this season, so we wanted to make sure we had enough," said Jackie Rosetti, a spokesperson for the mayor's office.
Supplies of the City of Somerville's free flu shot were exhausted on Tuesday, Jan. 8. However, the City of Cambridge donated an additional 100 doses available for free while supplies last.
According to the flu-shot team at the CVS in Davis Square, they're running low but still have a limited number of flu immunization doses at the Davis Square location, adding that the CVS in Porter Square located at 36 White Street is offering a flu clinic from 4-7 p.m. Thursday, Jan. 10 on a "first come, first serve basis."
Click here for the lowdown.
Update from Somerville Mayor Joe Curtatone: 
Earlier this afternoon, we received word from our partners at the Cambridge Health Alliance – which has several offices and clinics in the City of Somerville – extending an offer to donate 100 doses of Flulaval, an influenza vaccine for adults ages 18 and older.  The additional 100 doses will be available at flu clinics, as supplies last, on Thursday evenings – beginning today – from 5 to 7 p.m. at the Somerville Health Department, 50 Evergreen Ave.  Residents with questions about the vaccination, supply, or other general information should contact the Public Health Nurse Manager, Maureen Monagle, at .
Share this:

One Response to "Somervillans scramble for flu shots"
Leave a Comment