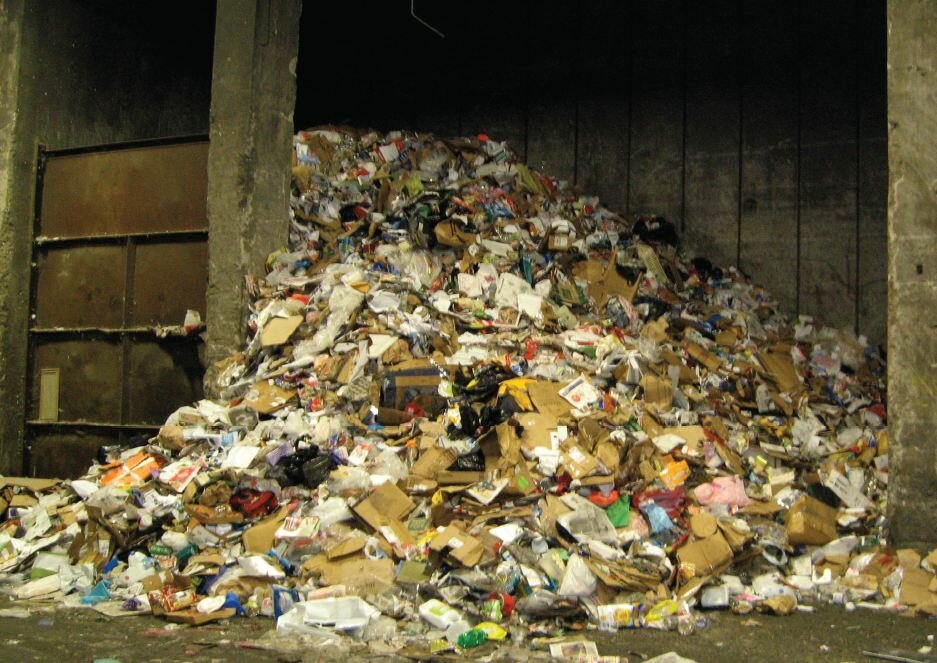 Photo by Ilan Mochari
BY ADAM VACCARO
Waste Management (WM), a $14-billion company with an excellent reputation for social responsibility, operates a trash transfer station at 10 Poplar St in the Inner Belt-Brickbottom area. Widely recognized for its employee treatment, specifically its openness to the veteran, LGBT and minority workforces, WM has also made the city more than $7 million in the last 10 years, according to Mayor Joseph Curtatone.
But in October, the city notified WM that its lease would be terminated, effective October 1, 2012. The reason? The transfer station smells. The plant is ugly. The plant is outside the cusp of Boston. And Somerville wants to look attractive to commercial tenants when the Green Line extension opens its Washington Street stop. "It's a very important symbol to remove and get rid of the transfer station," says Curtatone. "[The station] is just bad symbolically for the city. It's at our front door."
Changes at the top
Shortly after the City notified WM, it hired Michael Glavin from the Boston Redevelopment Authority to head up the Office of Strategic Planning and Community Development (OSPCD). Glavin took the place of Monica Lamboy, who had resigned in June despite – according to a source close to OSPCD staff – not having another job lined up. Before Glavin's hiring, the city fired Director of Economic Development Rob May. As of early December, May's position had not yet been filled; Glavin said he and Curtatone were working in tandem to find a successor. Michael Meehan, the city's spokesman at the time of May's dismissal, told Scout that the shifts in personnel did not indicate a shift in economic planning and philosophy. (Meehan himself would join May and Lamboy in leaving the city at the end of October, saying the fast pace of the job was keeping him from his family.)
Curtatone contradicted Meehan, saying the city was excited for Glavin's new ideas. "We never stay the course," he says. "When it gets quiet around here, I don't like this." He also refused to single out a priority among the three transit-oriented sites in Inner Belt-Brickbottom, Union Square and Assembly Square, instead declaring, "All three are priorities for us." "There are a lot of projects," says Glavin. "That's part of the reason I came here. It's very exciting."
One source told Scout that the inconsistent focus from the top is the reason for OSPCD's turnover, and that the turnover means the staff needs to frequently restart projects. Brad Rawson, the city's Senior Planner of Economic Development, acknowledged that the "once-in-a-century" chance to redefine the city through new public transit puts pressure on the staff, but he sees that as a positive. "It's both exciting and kind of intense for all of us," he says. "It's both a tremendous opportunity and a tremendous challenge."
WM's locale is what OSPCD calls a catalyst site: a spot that could spark organic economic activity. Where WM stands now, the city envisions a 260,000-square-foot mixed-use lot for both municipal services and private office space. Down the road, the city sees McGrath Highway grounded and the Inner Belt-Brickbottom area as a flourishing neighborhood with new residential space and the growth businesses the city has been trying to establish for years. Chamber of Commerce CEO Stephen Mackey estimates that job numbers in the neighborhood could, over the next 20 years, multiply five-fold, from 1,000 to 5,000. The 1,000 jobs there currently are predominantly hospitality, light industrial, warehouse, distribution, automotive and transportation related, with very little retail (2 percent or less, according to Mackey).
In the long term, the city sees Somerville's neighborhoods as a series of these mixed-use developments. "All of this, of course, results in an increased tax base for the municipality," notes Tufts urban planning professor Rachel Bratt. Increased commercial taxes, in particular, are essential to a city like Somerville, which desperately needs to rectify the imbalance between its residential ($7.1 billion) and commercial ($1.1 billion) tax bases. According to OSPCD documents, the city hopes these numbers read $8.6 billion residential to $2.3 billion commercial by 2019. These numbers are stronger than more suburban towns like Arlington ($6.5 billion residential compared to $294 million commercial) but pale in comparison to Cambridge, whose businesses reportedly account for nearly 64 percent of its tax levy.
The Messianic Green Line
If commercial taxable value is the reason for WM's dismissal, the Green Line – and, specifically, its proposed Washington Street stop – is clearly the impetus. We all know the numbers: When the extension and the Assembly Square stop come in, 85 percent of the city's residents will be within a half mile of the T, compared to 15 percent now. That percentage is crucial to the city's hopes of establishing transit-oriented mixed-use developments around the new train stations – and thus to its hopes of attracting entrepreneurs and growth businesses.
All of that, of course, is dependent on the Green Line actually happening. One State House source says she finds it very unlikely the project will start on time. Curtatone rebuffed that perspective. "The GreenLine will happen," he says. "It will happen because it legally must happen. And the Governor realizes you leave a lot more money on the table if you don't build the Green Line." Mackey met these two ideas in the middle, saying the entire project may be delayed, but there should be enough funding to at least have a first phase – the Union Square and Washington Street stops – operating on time. A state report released in late November and published in the Somerville Journal says construction will begin on the Union Square and Washington Street stations in the summer of 2013.
What about the here and now?
But summer 2013 is still more than one year away. In the meantime, the city will have to deal with the immediate loss of revenue from the WM lease. And according to Inner Belt-Brickbottom project leader Melisa Tintocalis, the city will likely be responsible for cleaning the lot after the company moves out. Curtatone says the city has budgeted for this hit and "is prepared to absorb" it. There is no timetable for when a new project may break ground at the site, according to Glavin and Rawson. Commercial taxable value in the city has dropped nearly two percent since 2011 (from 12.9 percent to 11 percent). The city has lost nearly 1,200 jobs in the same time.
Alderman-at-Large Bruce Desmond attributes this to a slow-moving economy nationwide, but says the city needs to make it easier for new businesses to open. "We're trying to deal with that," he admits. For Rawson, the Green Line and transit-oriented development remain the key. "The Green Line's a game changer," he says.
Waiting for the Green Line may not be good enough for some, though. For a decade, the city has been talking about the importance of developing a biotech industry. It has had little success. To this day, Bedford Stem Cell Research (260 Elm St), a nonprofit that does not pay land taxes, remains the only life sciences entity in the city. If there are others, Dr. Ann Kiessling, Bedford's director, would like to know about them. She has repeatedly and unsuccessfully asked the city for a list of other life science organizations within Somerville's 4.1 square miles. She and her staff say they love their Davis Square location, but biotech companies require others of their kind in order to sustain themselves through shared research and growth opportunities.
This has her wondering if she'll be able to stay. "We have to make some decisions," she says. "We need to grow. We're a bit constrained here." Her assistant, Ryan Kiessling, told Scout that Bedford Stem Cell is considering moving to Waltham when its lease expires in March.
Growth companies, like those in biotech and life sciences, are clearly on the city's wish list. At Assembly Square, for example, the city still envisions a future mixed-use site, home to high-tech and biotech businesses, among others. This remains the city's projection for Assembly Square, even as its early returns indicate big-box dominance and a preponderance of outlet stores. Inner Belt-Brickbottom is also seen as a potential spot for growth businesses. But it will take years before these developments can really happen, first requiring retail and restaurants to lay the economic foundation.
That may be too long of a wait for an entity like Bedford Stem Cell. Even if that's no loss for the city's commercial taxes, it means its only life science interest would be gone. And in a collaborative industry where, as Kiessling puts it, "all boats would rise with the tide," that leaves little impetus for a for-profit biotech to set up shop in its stead.
Small victories
Though sorely lacking in businesses employing more than 150 people – only 20 of Somerville's 2,153 companies fit that description – the city has succeeded in luring smaller entities. One new restaurant, La Brasa, will open in East Somerville under the direction of popular Greater Boston chefs Frank McClelland and Daniel Bojorquez. The duo, in a joint email to Scout, say they see their project as important for economic development. "We expect to see [East Somerville] grow and develop around the people who live there, and at the same time invite entrepreneurs and urban pioneers to build on that strong foundation," they write.
In addition, Scout has learned that East Somerville resident Rebekah Powers, a protégé of well-known restaurateur Barbara Lynch, aims to open a French restaurant in the same neighborhood. By the end of 2012, East Somerville could be a dining hotspot.
Moreover, the city has helped harness Artisan's Asylum (10 Tyler St) and sprout & co. (339R Summer St) as creative hotbeds, with the former having leased out all of its space in the old Ames Envelope building. OSPCD's Stephen Houdlette says high-tech businesses are starting to take note of the Ames building as a low-cost, big-space work area, but was not aware of any competition for the space Artisan's Asylum currently occupies.
Other new businesses in Somerville have mixed reviews of their city partnerships. BikeBoom (420 Highland Ave) owner Roy Ornath says the city has been helpful and made him feel comfortable since setting up shop over the summer. Katie Rooney, owner of 3 Little Figs (278B Highland Ave), says her new coffee shop hasn't had a lot of city support, but she hasn't asked for much. And, she says, "a lot of City Hall folks have become customers."
Knucklebones (196 Elm St) owner Mitch Zeisler, however, has experienced business administration on both sides of the Cambridge-Somerville border and says Somerville "is not conducive to entrepreneurs starting a business." In Cambridge, he says, things as simple as getting a bicycle rack or more recycling bins are more easily accomplished.
For better or worse, however, these businesses are now set up in Somerville. But what about those revenue-generating growth businesses? Their arrival in Somerville, it seems, will depend on the Green Line, and thus could be several years – maybe even decades – away. It would be unrealistic to expect development overnight. The city doesn't. "We're acting today," says Curtatone, "with an eye on tomorrow."
Share this: