The owner of Union Square's Hub Comics passed away in May.
Somerville won't soon forget him.
By Michael Schulman
Photos by Kelly MacDonald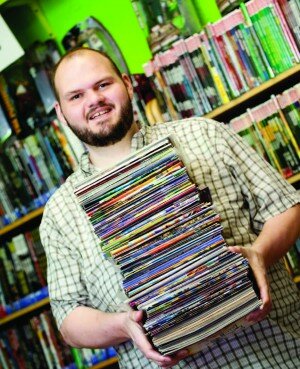 Union Square lost a beloved and colorful denizen in late spring when James Welborn, owner of Hub Comics (19 Bow St), died unexpectedly at age 37.
Welborn grew up in Nevada. Like many boys of his era, he got hooked on comics almost as soon as he could read. The closest comic store was a two-hour roundtrip from his boyhood home. "He worked all week, saved his money, and the store became a real destination for him," says Hub manager Jesse Farrell.
In high school, Welborn wrote two issues of a comic called The Henderson Nerd Posse. "Which was me and my geeky friends, driving around, fighting crime," he explained in a YouTube video (see the link at the end of the article). His own experience trying to create and market a series is one reason he was so supportive of local artists.
Welborn's first job after college – he attended the University of Nevada at Reno on a scholarship – was as a reporter for the Las Vegas Sun. Having learned computer programming as a hobby, he became the paper's webmaster once it began publishing online at Vegas.com. His high-tech savvy brought him to the Boston area in 1999, where he became a software engineer for Akamai Technologies in Cambridge. In 2003 he got married and in 2004 he had a son. At the time of his death, he was in divorce proceedings, several sources told the Scout.
"He was a good friend," Farrell continues. "I was surprised and sad, but I'm glad the place is remaining as his legacy." Farrell has provided the continuity to keep Hub open without interruption. New owner Tim Finn, a professor of animation and comics at the Art Institute of Boston at Lesley University, discovered Hub during visits to Bloc 11 (11 Bow St). Its appeal for him was the diversity. "Not just the diverse product but the store's diverse readership," he says, pointing to shelves with classic Batman and Superman, Donald Duck, Manga, Maus and even a graphic novel about Auschwitz. "The store's personality was based on the owner's tastes," which included "horror, action, and non-fiction genres—unusual for a comic store. It's usually superhero A to Z. That's also part of James' legacy."
"One of the things that made Hub different from the beginning was having the sections categorized by genres," he continues. Finn intends to keep it that way. Some sections, though, will be thinned out: He plans to stop selling DVDs and toys and will focus on adding new inventory of graphic novels and comics, especially superhero comics. Wooden bookshelves will replace the wire ones that have been in the store since it opened.
Finn bought the store in a private sale from Welborn's family, who became the owners after his death. Finn shared how it happened with Scout in an e-mail:
"A year ago when the store was in trouble (sales to raise cash, e-mail and Facebook appeals to customers), I made a casual inquiry about becoming a silent partner," he wrote. "Nothing came of it, and I put it out of my mind. When James died, Jesse recalled the offer and asked me on behalf of the family…seeing an opportunity to carry on James' legacy for the neighborhood – someone who might run the store as James had, rather than it all shutting down. So buying the store was technically my idea, but feels more like Jesse's since it was a surprise when he brought up the topic in May."
Hub's neighbors and even its business competitors have fond memories not only of Welborn, but also of how his store was a warm presence in the neighborhood. "People went there to hang out on his couch," says Sheryl Sarokas, owner of Union Square Acupuncture (21 Bow St). "You could always find someone to talk to. If we needed something, he'd always lend a hand—with a smile." People who read comic books are "all part of a small community," adds Mike Burke, owner of Comicazi in Davis Square (407 Highland Ave). He says that the two stores often called (and still call) each other to fill special requests for customers. He first met Welborn when the latter was a customer of Comicazi – before Welborn opened Hub in January, 2008. "I always respected his stance on the local artist scene," says Burke. "He was doing something he loved. I'm glad his dream is continuing with other people at the helm."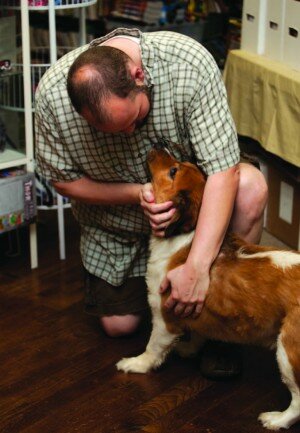 Hub's regulars have been asking about Bub, Welborn's beloved and faithful dog – known as "the grinning dog" because of his constant smiling. Bub has a new home. His owner, who wished to remain anonymous, is a Union Square resident. Now, like other neighborhood dogs, Bub often stops by the store on his walks to say hello. The new owner is an acquaintance of Farrell, who was Bub's temporary custodian after Welborn's death.
As for the store's future, Finn isn't worried about losing readers to electronic media. The appeal of a comic, he says, is that it's "a concrete object. You want it in your room on your bookshelf." Finn promises Hub will continue to "serve Union Square with a safe, fun, inspiring environment that nurtures reading and buying comics," just as Welborn did. Farrell adds that the store has "built a community. People come in for comics but a lot of friendships have been formed here. There's a reason they call it the Hub."
"People will continue to walk their dogs and stop by for a doggy treat," Finn says, smiling. "I think this is beautiful," he says, pointing to a shelf full of D.C. and Marvel graphic novels—which would never had found their way to Union Square if not for James Welborn.
For more on the life and legacy of James Welborn, you can watch an 18-minute YouTube film of his June 4 memorial, which took place at Hub Comics. The video includes testimonials from Welborn's sister, Dara; friends, relatives and customers; and footage of Welborn himself inside the store. The filmmaker, Dante Luna, also made a short movie about Welborn in 2009.
The Memorial: tinyurl.com/3cojaxb
Dante Luna's 2009 film on Welborn and Hub Comics: tinyurl.com/4xdru23
Emergency personnel discovered Welborn in his apartment at 32 Summit Ave on May 16, according to reports on Boston.com, Somerville Patch and the Somerville Journal's Wicked Local site. Seven days later, Welborn died at Massachusetts General Hospital. Sources have told Scout it was a suicide.
According to the obituary in the Las Vegas Review-Journal, Welborn "was preceded in death by his parents, Jim Welborn and Sharon Welborn-Haproff. James is survived by his son, Max; wife, Karrie; stepfather, William Haproff; brother, Matthew Welborn and sister, Dara Welborn of Henderson; sisters, Donna Welborn, Toni Hawkins and Carol Faust of Missouri; and many beloved nieces and nephews."
Share this: